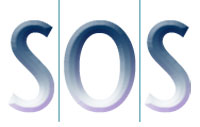 Elder Services
In 2002 Sarah Williams founded S/O/S to serve the elders of our community in an effort to help people and their families remain independent. Visiting elder clients regularly remains a key (and favorite!) component of Sarah's work. She can perform the functions of Daily Money Management, address any number of organizational tasks and even assist with moves or other daunting tasks. Working with elders remains a key component of the mission of S/O/S.
Sarah Williams-S/O/S has earned the designation Certified Senior Advisor. This means she has taken the time to become educated about issues affecting seniors including but not limited to:
Physiological changes of aging
Aging and Society
Cognitive aging
Medicare, Medicaid, and Social Security
Mental health, grief and loss
Chronic illness
Fitness, nutrition, and healthy lifestyles
Advance directives and planning
CSA's are trained to do perform whatever services they provide better for their senior clients. They also serve clients with information and resources, and assistance in decision-making. Sarah Williams-S/O/S works in concert with CPA's, bankers, and investment advisors as another layer of service and protection for her senior clients.
SERVICES AVAILABLE include:
Mail management
Bill paying
Account reconciliation
Insurance issues
Tax data management
Filing and filing systems
Move management
Advocacy
Maintain communications with grown children
The beauty of S/O/S is that whatever your needs Sarah can tailor a program that suits you. Meeting client needs is paramount.
Sarah Williams has been helping my father with his bills and paperwork from winter of 2011 until his death in October 2012. As time went on, she also helped him in clearing old clutter and paperwork (eg. Old documents that need no longer be saved) from his apartment, which made a huge difference to his surroundings and also to his grasp of what he was keeping and why. This was primarily a matter of helping him decide what was needed, and not forcing an opinion on him; judiciously letting him be in control while guiding by common sense and her knowledge of accounting, record keeping, etc.

Sarah always made sure he understood exactly what was going on with his bills, bank accounts (which she helped him to simplify; he knew this was a good idea but couldn't do it on his own), etc. He spoke slowly and needed to have things explained slowly, and she was very good about doing that. He often told me on the phone how she had improved his life in these ways.

At one point he needed help in drafting a legal document, and Sarah was at the meeting with the lawyer, and helped enormously in his understanding of what was done, how, and why; he told me this on the phone. Also, she wrote a summary statement that he found very useful. She sent it to me too, with his consent, and it kept me in the loop and I think this was appropriate.

One of the best things about Sarah was, she kept an eye out for what she could do to help besides what she was doing already. She was very attuned to how he reacted to what she did. Also she sent e-mails about what they did together, and what she observed that I ought to know about. Since I live in Cambridge and my way of communicating with him in Lenox was mostly by phone, this was enormously helpful. I replied to her e-mails and told her things about his background, and things he had done over the many years of his life and she used this to understand him better and it worked very well.

I could see she liked my father and this gave me confidence that she would be able to help him. In my judgment her companionship, as well as concrete aid, was valuable to him, as it was to me at a distance.

Also worth noting is that Sarah made a list of his bank accounts and other assets including contact information, a directory of sorts, which as his executor I now find extremely helpful. And I know I can count on her for help if I need it."

– Anne Patterson, Cambridge, Mass.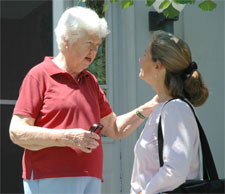 Fact: AGING IS A NEW PHENOMENA
In 1900 the average lifespan was 47
In 2000 the average lifespan was 77
Sarah has been working with my mother for about a year and a half. I live in California, she in Lenox, Mass. Sarah has been a fabulous help. Originally, she was hired to help with mail and paper work organization. But whenever there was an issue or crisis she was there to help, quickly and efficiently. She also communicates to me and (my mother) often and thoroughly about exactly what they are working on together, giving me regular reports on her state of mind and body. I was there a few weeks ago and was amazed at her unending patience with having to repeat and explain to someone who has trouble understanding what is being discussed from one minute to the next. Finally, and probably most importantly, she is very kind and gentle, soft spoken and respectful. I couldn't ask for a better Senior Advisor."

– Leslie Spector