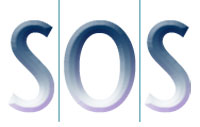 Daily Money Management
Sarah Williams/SOS provides Daily Money Management services. She is a member of the AADMM, The American Association of Daily Money Managers located in Bellefonte, Pennsylvania, a membership organization committed to promoting high standards of client services provided by its members. Daily Money Managers provide personal business assistance to clients who have difficulty with, or lack the time needed for, personal monetary affairs.
How does Daily Money Management work?
Sarah arrives at your home every week or two (as often as you wish)
She will review the mail with you or for you
We'll decide what to keep and what to throw away
Bills get paid
Checks are prepared for client signatures
Accounts get reconciled
Creditors are called in the event of an incorrect bill or other questions
Important paperwork gets tended to (example: insurance issues)
Sarah will set up file systems to organize important data (like tax information)
Sarah is available for other jobs, too, like organizing or creating the office
And……
Sarah Williams-S/O/S is also available to address Personal Finance issues like budgets, debt resolution, and cash-flow management
Sarah is a Certified Senior Advisor and is honored to work with elders
Sarah works in concert with CPA's and attorneys as another level of security and protection for clients
The beauty of SOS is that whatever your needs Sarah can tailor a program that suits you. Meeting client needs is paramount.
Sarah's organizational and bookkeeping skills have totally changed the way my business and home operates. There is never any guesswork about what we have spent or what constitutes a business expense. The information is always up to date and fully accessible which allows me to concentrate my energies on the things that matter to me."

– Jonathan Prince, Southfield, Mass.