About Sarah/SOS
Sarah was born and raised in rural Northeast Ohio. Growing up for her meant lots of trips with her family plus loads of swimming, hiking, biking, and ice skating. She left high school early to begin college earning an Associate Degree from Simon's Rock College and a Bachelor's Degree in Anthropology from Grinnell College in 1983. The wonder of culture and its many forms has always been a marvel to her, particularly Political Economy, which is the branch of Anthropology most fascinating to Sarah. What drives the decisions people make? Why do they act as they do? In what force fields do we live? Why do we organize ourselves as we do? How can this help us to understand our pasts and our future?
After college she immediately returned to the Berkshire Hills of Western Massachusetts and set up housekeeping near her best friend -who remains her best friend to this day- regarding this as one great place to live.
Sarah spent twenty-two years working in every facet of operating a business including but not limited to customer service, sales and marketing, project management, finance and bookkeeping, payroll, insurance administration, purchasing and production, formulation of policy and personnel management. These were exciting and enthralling years and the best university imaginable.
In 2002 Sarah founded S/O/S to capture the opportunity to serve elders. She saw a need for great people to be able to maintain their independence and knew she could help. She also recognized that the children of those elders often need help, too.
Since 2002 the concepts and ideas for S/O/S have grown to include work with private clients of all ages as well as small business owners but still with the same focus – to help people formulate and achieve goals and enable independence and freedom no matter their pursuit. Sarah has gained training to enrich and complement her experiences and skills which when blended with her core principals of integrity, honor, trust, and professionalism make her a natural to work with people who are ready to take the next step toward realizing their organizational and financial potential.
Life is good – especially in the Berkshires. The picture on this page shows Sarah with her husband and child. Together they make a family (with their two dogs and two fish) in Sheffield. Indeed…. we have so much to be grateful for.
The beauty of S/O/S is that whatever your needs Sarah can tailor a program that suits you. It's all about serving the needs of the individual client.
Sarah's organizational and bookkeeping skills have totally changed the way my business and home operates. There is never any guesswork about what we have spent or what constitutes a business expense. The information is always up to date and fully accessible which allows me to concentrate my energies on the things that matter to me."

– Jonathan Prince, Southfield, Mass.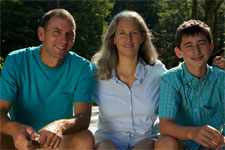 Sarah & Family.